Functionalities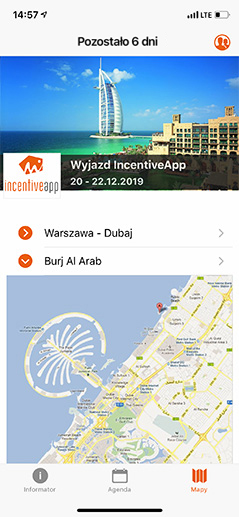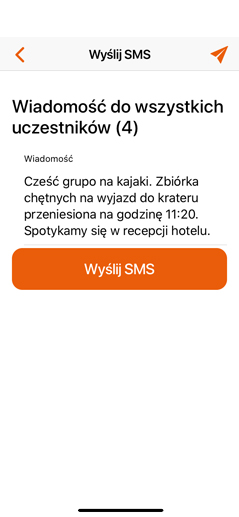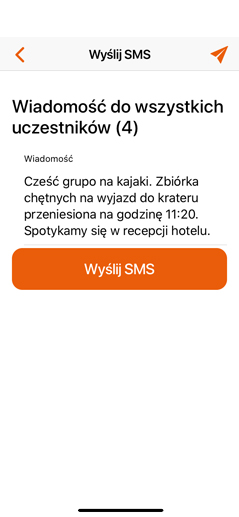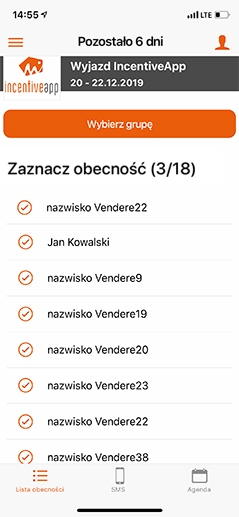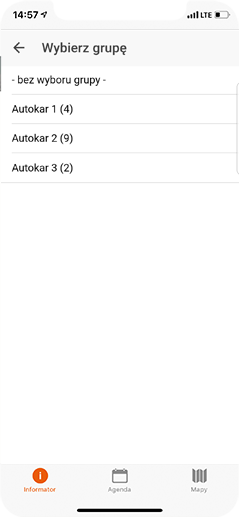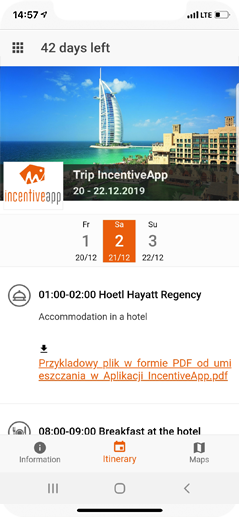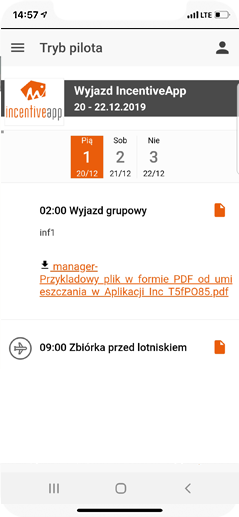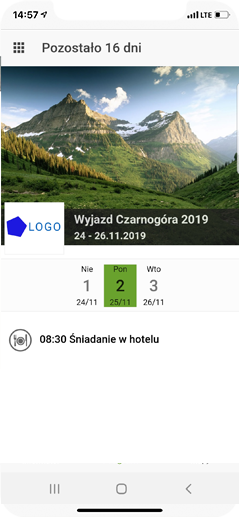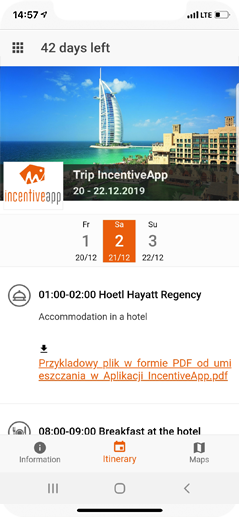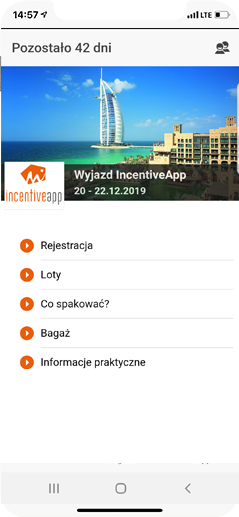 Itinerary
daily schedules on your smartphone - hours, assembly points, new activities day by day. Customised for each and every participant, in the language of his/her choice - you decide how detailed they are and what is their presentation format.
Main information
what to pack, baggage allowance, info about flights, insurance, must-have phone numbers, contact to guides, taxi cabs, hotels, local attractions, potential risks at your destination – all info that should be readily available to participants.
Maps
some see the map as a useful tool, while others perceive it as the synonym of travel. In IncentiveApp, you may upload fragments of local maps, scans of hotel leaflets and hand-drawn sketches.
Pre-defined messages
you may schedule mailing of text messages sent to participants at strictly defined times correlated to the tour agenda (always remember to select the right time zone), also in the offline mode. You may also schedule distribution of such messages before departure.
Notifications
You and your guides may provide participants with ongoing communication about any changes in the agenda, delays or additional highlights. The integrated text message gateway helps reduce their cost outside the EU.
Checklists
may be used by guides at any time - to check if all participants or selected groups are present. They come with an option to send a text message to an absent participant with a single click.
Split into smaller groups
guides may split participants into smaller groups, for instance, by scheduled activities or assigned means of transport, to efficiently manage the group and engage in communication with participants.
Language groups
IncentiveApp supports dividing participants into language groups. You may selectively share information and engage in communication in several languages - simultaneously.
The guide's agenda
Regardless of agendas created for participants, you may provide guides with a customised agenda that contains more information, additional arrangements or requirements.
Import/Export of Excel type files
Speed up your efforts by importing ready-to-use Excel templates to the panel. You will be working on the template, changing only those items you need to change...
Selection of the colour scheme
Clients have their favourite colours, and they may be allergic to their competitor's livery... IncentiveApp enables you to select the colour scheme for your tour.
PDF files
Clients have their marketing messages they want to deliver to participants at any cost in a pre-defined format. Don't worry - with IncentiveApp, any participant will be able to open shared pdf files...
Registration module
while preparing a tour, you may benefit from an (optional) module that supports registration by participants via on an online form. With such solution in place, all essential personal data, processing consents, terms and condition of insurance, or even document scans may be provided to you by participants in line with GDPR regulations in force.
A customisable app
We provide tour operators with an option to use their own, customised version of the app available from GooglePlay and AppStore which comes with their own logo. Contact us
Your tour in three simple steps
Create an account
in Incentive App
register and obtain access to the configurator to efficiently manage the tour
załóż konto wypełniając krótki formularz. Po rejestracji otrzymasz e-maila z prośbą o potwierdzenie rejestracji
log in with your access details
buy access that matches your needs (pay by transfer or PayPal)
or proceed with consecutive steps and buy access shortly before you publish the tour for participants
Enter
tour content
daily schedules, assembly points, list of equipment, important contacts, air tickers, essential links and overviews, maps, etc. - everything you believe is essential for participants
its name and timeframes
create tour content; the intuitive configurator will guide you step by step and offer a preview that shows you how entered content will be displayed in the app
supplement the agenda, upload maps, logotypes and essential information. Set brief notifications to be distributed to participants
create the list of participants, manually or by importing an Excel file in line with instructions. You may do it multiple times, updating the previously entered list
Share
with clients
and make the most of IncentiveApp capabilities…
highlight people who support the tour (guides, coordinators). They will receive access to dedicated functionalities
buy access that matches your needs, if you haven't done it in step one (pay by transfer or PayPal)
click "Publish" - and automatically send the invitation to all participants from the list with a request to download the IncentiveApp and the customised access code
• if you forgot to post an important piece of information, don't worry! Simply supplement missing info and click "Publish update"
Configurator
In IncentiveApp, the entire tour development and management process is guided via a custom-made and intuitive tour management panel.
You may rely on our configurator across all stages of the process
– it will guide you across all consecutive steps, suggest possible solutions in multiple choice fields, download content from previously created tours or frequently used Excel spreadsheets and…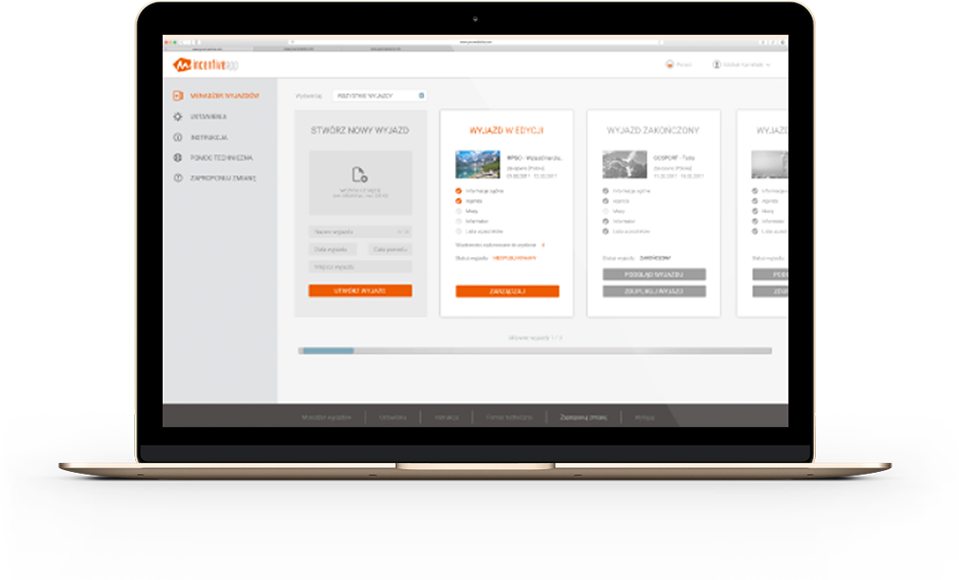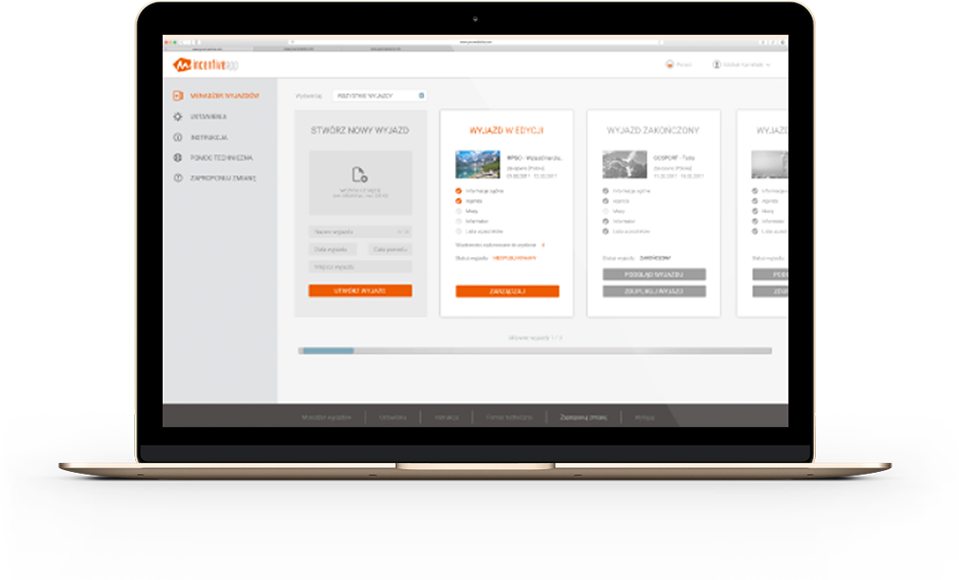 ... at any time, it will give you a preview to show you how entered information will be displayed on the user's phone. It's easy, isn't it?
You will instantly love working with it! Remember that if you have any questions or issues, you may contact our customer support centre…
Registration module
If:
you are annoyed by how long it takes for your clients to transfer participants' data and consent for data storage,
you don't feel comfortable with the fact that you will probably receive the final update at the airport anyway,
• you are worried that you might have violated GDPR regulations in the process:
try to change rules of the game and while preparing a tour, benefit from an (optional) IncentiveApp module that supports direct registration by participants.
Benefits for you:
participants of the tour will have to take the initiative and enter all essential consents and personal details, which are required to register for the tour,
you may freely configure the form to adapt it to your needs - participant's personal data, consent for data processing, consent for presented terms and conditions of insurance, scans of passports and visas, essential certificates - in an encrypted and password-protected file,
all data will be automatically transferred to the administrator's account and will be available in a single place, so there will be no need to integrate various forms,
you may quickly view, edit or send a request to supplement data to all or selected participants with a single click,
• participants' data are protected in line with GDPR guidelines at all stages of the process
Benefit from a module that supports direct online registration by participants (Incentive Travel Basic Plan).
Contact us
Customisation
Is IncentiveApp well catering to your needs?
Would you like to go a step further?
Are you contemplating having your own app that may be downloaded by clients from GooglePlay and AppStore and comes with your logo?
We will do it for you!
Contact us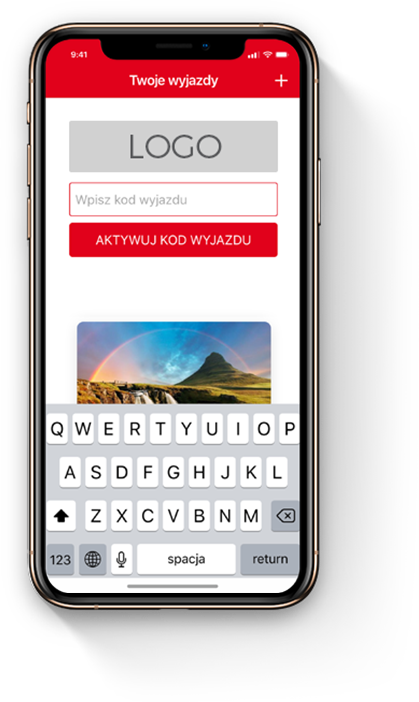 This is
where your logo
may be inserted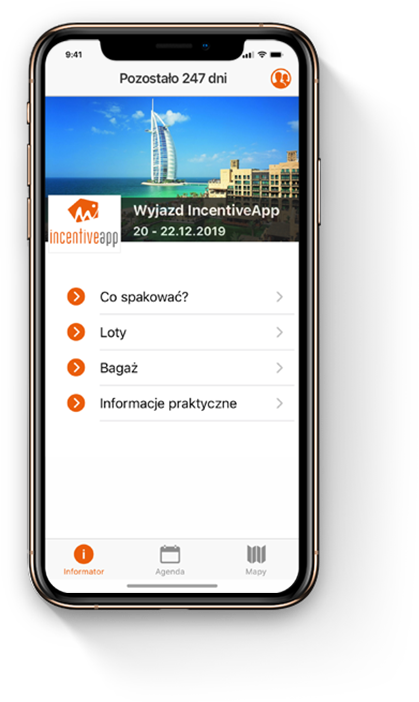 This is
where your logo
may be inserted
You choose
the skin colour
The logo displayed in stores and on participant smartphones
is yours
Buttons are adapted
to your livery